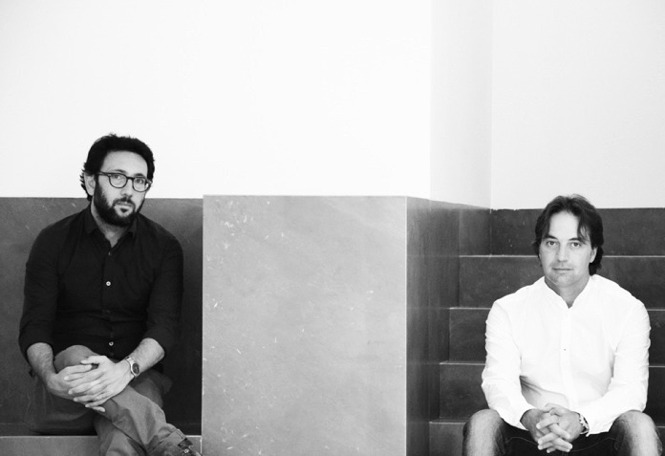 bdfarchitetti is a design workshop born in 2004 by the collaboration of architechts with a common studies' itinerary at the Polytechnic of Bari (degree in 1999-2000) and a postgraduate study and work experience in Barcelona (Master and Ph.D. at UPC-ETSAB; collaboration with Arriola&Fiol Arquitectes). Founder members of bdfarchitetti are Vincenzo P. Bagnato and Pasquale A. De Nicolo, coordinating a dynamic and multi-disciplinary team of partners and collaborators.
bdfarchitetti addresses its design research activity mainly to the partecipation in competitions on the topic of urban renewal and design of public spaces, favouring experiences of partnership with national and international architecture studios and engineering companies. Between the recent awards: 2nd prize at the competition "Reconstruction of the central area of the Fiera del Levante" in Bari (2014); Mention at the "Premio INARCH/ANCE Puglia" (2014); Selection at the "Premio Apulia 2012"; Finalist in the International Competition "Baricentrale - transformation of the central railway areas in Bari" (2012); Selection at the "Call for Architect Talent - Pugliarch 2012"; Selection at the "GiArch - Progetti di Giovani Architetti Italiani" (2011).
Works of bdfarchitetti are published in many international reviews and books, and have been exposed in Trento, Vicenza, Torino, Milano, Roma, at the XIII Architecture Expo "La Biennale di Venezia" at the Universal Expo Shanghai 2010 (China).
PORTFOLIO
Vincenzo P. Bagnato (Bari, 1974) is architect PhD graduated in 1999 at the Faculty of Architecture of the Polytechnic of Bari (Italy). Winner of a grant for research activities abroad, from 2000 to 2004 studies and works in Barcelona (Spain), where he got the Master's Degree (2001) and the Advanced Studies' Degree (2003) in Architectural Design from the U.P.C. - E.T.S.A.B. abd since 2005 is Visiting Professor of Technology of Architecture at the Polytechnic of Bari. After working with Arriola&Fiol Arq. and with Mauro Saito, in 2004 is founder member of bdfarchitetti.
CV
Pasquale A. De Nicolo (Bari, 1973) is architect graduated in 2000 at the Faculty od Architecture of the Polytechnic of Bari (Italy). Winner of a grant for research activities abroad, from 2000 to 2004 studies in Barcelona (Spain), at the "Escola Sert" and at the U.P.C.-E.T.S.A.B., where he got a Master's degree in Architectural Design (2001). In 2002 is winner of a research grant from the Polytechnic of Bari and in 2004, after working with Barba Corsini and Studiocentro, is founder od bdfarchitetti.
CV
PHOTOGRAPHERS
Michele Cera
Donato Minuto
Paolo Tria
PARTNERS
ABDR (Michele Beccu)
Arriola&Fiol Arquitectes
Giuseppe Berardi
Rossana Carullo
CruzyOrtiz Arquitectos
Valeria De Mattia
FGP Studio (Nico Flora, Paolo Giardiello)
Massimiliano Fiore
Azzurra Garzone
LAU080 (B. Antifora, F. Malasomma)
Nicola Martinelli
Moramarco+Ventrella Architetti
Mauro Saito
SAVB (Spartaco Paris, Paolo Valente)
CONSULTANTS
Claudio Andelmi (security, fire prevention)
Salvatore Bagnato (systems)
Kepos Studio - Antonio Bernardoni (green)
Alessandro Biamonti (design)
Giuseppe Bitetti (systems)
BOMA (structures)
Roberto Brufau (systems)
Barbara Cadeddu (engineering)
Fanny Cavone (interior design)
Dario Ciminale (archaeology)
Vito Colaianni (structures)
Marco De Santi (visioning)
Deligio&Carone (systems)
Europrincipia S.L. (engineering)
Alfredo Giardina (solar energy)
INHA S.A. – Instituto de Hidrodinamica Aplicada (systems)
JG INGENIEROS S.A. (systems)
Gianluca Lobascio (systems and security)
Piero Masini (security)
Luis Moya (systems)
Giovanni Nitti (structures)
Nicola Nuzzolese (security)
Maurizio Passannante (structures)
Marco Pellegrini (security)
Nicola Porreca (structures)
Antonio Presutto (energy)
Roberta Maria Rana (systems)
Eligio Romanazzi (engineering)
Mario Rossignoli (systems)
Vincenzo Russo (planning)
SETAC s.r.l. (engineering)
Nicoletta Sale (engineering)
Giuseppe Scordella (biology)
STIPE s.p.a. (engineering)
STS Servizi Tecnologie Sistemi S.p.A. (engineering)
Filippo Surace (structures)
Alessandro Tartaglia (communication)
Carmelo Torre (planning)
Jose Maria Tunica (systems)
Francesco Valerio (structures and geology)
Elaborazioni.org
3TI Progetti
Rotondo Ingegneri Associati
COLLABORATORS
Vito Catella
Carmela Maggio
Maysha Mussonghora
Ada Palmieri
Valentina Zaza
Francesco Bello Lorusso
Corrado Brunialti
Marianna Campanale
Antonella Cardinale
Angela Cecinato
Serena Celestino
Donatella Chieco
Nicola Daddabbo
Alessandra Dentamaro
Sara Ferraro
Federica Franciolapilla
Giuseppe Galliani
Salvatore Giordano
Audrey Le Henaff
Grazia Loiacono
Maria Lucia Masciopinto
Silvia Micunco
Francesco Pagano
Anna Pellegrini
Pierlugi Percoco
Francesco Piscopo
Flavia Preziosa
Paola Ria
Emilio Scarangella
Sabrina Scaletta
Luigi Simone
Cecilia Surace
Azzurra Sylos Labini
Pierpaolo Todisco
Miriam Triggiani
Pasquale Tufariello
Maurizio Usai
Fiorella Maglianico
Antonella Ventura
Carla Pugliese
Graziana Tagarelli
Weronica Nowosad
Justina Stankiewicz
CLIENTS
Apple Center Bari-Lecce
Associazione Canottieri Barion Bari
Comune di Bari
Comune di Castrignano del Capo, Lecce
Fiera del Levante Bari
For. VI. s.r.l.
IACP Bari
Legambiente Bari
Mansueto & C. Putignano
Modo s.r.l.
Rosacosola s.r.l.
TAR Puglia
Vedetta sul Mediterraneo ONLUS
Banca Generali